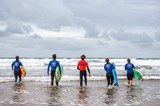 Level 1 Surf Instructor Courses Pembrokeshire, Wales
Our goal is the training of competent surf coaches with the relevant surfing skills and knowledge to be able to independently instruct surfers at…
ISA Level 1 Surf Instructor Course Wales
Our goal is the training of competent surf coaches with the relevant surfing skills and knowledge to be able to independently instruct surfers at beginner to intermediate stage in surf schools as well as assist the head coach / Level 2 Instructor in doing his tasks in surf camps (where special skills are requested).
The course consists of the ISA L1 surf instructor course developed by the ISA to cater for the special needs of surf schools and surf camps. This combination has established our coaching program as the most requested worldwide.
Your advantages: 
The included ISA accreditation is the only accreditation globally recognised by the ISA
ISA (International Surfing Association), 
Course Overview
Level 1
Location Pembrokeshire
Duration 2 days
Language English

*

Check-in 9:00
Course Start 9:30
Course End 5:00
Costs £300
Level 2 
Level 2 Pembrokeshire Wales
The Surf Coach Level 2 is entitled to instruct intermediate to advanced surfers (up to club level surfers) and has the relevant knowledge to act as a…
ISA Surf Instructor Level 2 Wales
SURF INSTRUCTOR COURSES ISA LEVEL 2
Theses courses are both suited for your first step in becoming a surfing instructor, instruct beginner level surfing lessons and activities. The level 2 course is for surf coaches that are working with intermediate to early advanced surfers and coaching surf skills progression and development. The course also touches on athlete development, sport psychology, and surf contest preparation. All ISA Surf Level 2 Coaches MUST have completed and passed an ISA Surf Level 1 Course prior to approval as a Surf Level 2 Coach.
COURSE CONTENT
Duration: 3 days
Cost: £350
You will learn:
Performance analysis through video
Learn the benefits and execution of performance analysis
Principles of fitness, diet and nutrition
Skill drills for surfers & group workshops
Surf programme planning & practical coaching sessions
Fault recognition and correction
Practical surf sessions and evaluations
Healthy, safety and the law
Method and risk assessments
Safe and effective coaching
Presentations
PREREQUISITES
A current level 1 award that has been held for at least 12 months
A current beach lifeguard award
At least 5 years of real life surfing experience
WHAT'S INCLUDED?
Top of the range equipment
FREE wetsuit hire
Unlimited tea, coffee and water refills
PLEASE NOTE - You will need to complete your SLSGB/ISA/ILS Instructor Water Safety (or similar) certification and a minimum of 10 hours of practical work experience. If you are interested in completing any of these with us, please let us know when you book.
Start your next surfing adventure here
Ready to catch some waves? Enquire about our surf camp today and let us help you plan the surf adventure of a lifetime. Don't miss out on the opportunity to improve your skills and make memories that will last a lifetime.