INDIVIDUAL PACKAGE WITHOUT SURF COURSE
If you are an experienced surfer who can handle the waves on your own but don't want a surf course then this is the perfect package for you. Maybe you still want to enjoy the atmosphere and camaraderie of a surf camp or are with friends who want to take classes, whatever the reason, you can still stay with us and enjoy the best of both worlds.
SURF
Surf spot on your doorstep
Surf equipment available to use
Daily surf spot advice
FOOD
7x large breakfasts
7x lunches
5x 3-course dinners
Coffee, tea, juices all day
ACCOMMODATION
Accommodation on the beach
Fully equipped kitchen
Bathroom/WC
Daily cleaning
Extras: Free WiFi, Optional yoga
Surfing in El Palmar
El Palmar is ideal for surfing on your own - It is the best surf spot in Andalusia. Our accommodation is right on the beach and you can be in the water two minutes after leaving your apartment. Other surf spots are quick and easy to reach so you can surf in almost any conditions. Included in your package is surf equipment hire. We always have new Billabong and O'Neill wetsuits and a great range of soft and hard surfboards. In addition you get daily surf tips and insider knowledge of the best surf spots for the swell and tides.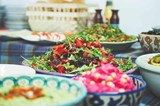 Catering during your surf holiday
Healthy and fresh full-board with 7 mornings of our legendary large breakfast with huge muesli station, bread and rolls, Spanish breakfast as well as breakfast specials (croissants, eggs, smoothies, chia pudding). 7 days of lunch and 5 evenings of 3-course dinner. There are always options for vegetarian, vegan, gluten-free and/or lactose-free. Enjoy your meal!
Your accommodation in our Surf Camp
You will stay in an apartment directly on the seafront with a double room in a "Casa". Single room and studio with a surcharge is also possible. Maximum of 4 people per Casa. Each Casa has its own garden or terrace and a fully equipped kitchen (e.g. stove, fridge), a living room and a bathroom.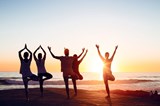 Extras at our Surf Camp
Optional open yoga classes 5 times per week
Coffee, organic tea, water, fruit and bread are available all day.
Terrace and lounge 30 metres from the Atlantic Ocean (in the beach camp)
Free WiFi
Use of an Office Room (Co-Working Space) with WiFi
For little ones there is a children's room with toys.
Use of the large yoga house garden directly on the beach.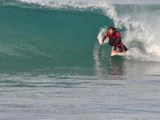 INDIVIDUAL PACKAGE
Accommodation and Catering
From £665
Start your next surfing adventure here
Ready to catch some waves? Enquire about our surf camp today and let us help you plan the surf adventure of a lifetime. Don't miss out on the opportunity to improve your skills and make memories that will last a lifetime.