SURF LESSONS
We offer coached beginner, step-up and intermediate surf lessons. Our courses take place Monday through Friday, approximately 4-5 hours per day. Our daily course times are variable since we take utmost care to surf with you at the most suitable time of day.
In order to plan our courses we monitor the tides and repeatedly check current weather and wave forecasts. Based on this information we schedule your surf sessions according to your levels of proficiency. Naturally all equipment you need is included in your surf package. All of our surf instructors are trained and certified surf instructors and lifeguards by the International Surfing Association. But what's most important: they all live for surfing!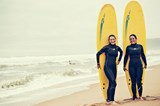 SURFCOURSE FACTS
MONDAY THROUGH FRIDAY, 4 – 5 HOURS PER DAY

VARIABLE STARTING TIMES, ACCORDING TO TIDE AND WAVE CONDITIONS

MAXIMUM OF 8 STUDENTS PER COACH

LESSONS IN THEORY & PRACTICE

INCL. SURFBOARD & WETSUIT

INCL. BEACH SHUTTLE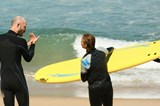 LEVEL 1 – BASIC
In our basic course (L1 – Beginner) we are going to introduce you, with a lot of practice, step-by-step to surfing a wave. The lessons are divided into sensible learning phases and build upon on your individual abilities.
Additionally we make you acquainted with the necessary basic surf theory. Continuous theory lessons provide you the knowledge about surfing and the ocean you need.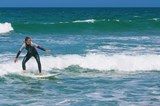 LEVEL 2 – STEP UP
Our step-up course (L2 – Step-Up) directly follows up on the content of the beginner course and your accomplishments. We help you to automatize and quicken the learned motion sequences.
Together with you we define your personal course aim and support you to improve your skills every day.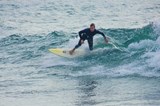 LEVEL 3 – INTERMEDIATE
The aim of the intermediate course (L3 – Intermediate) is to broaden your surf skills through individual coachings in small groups.
You have already experience in getting into the line up and surfing green waves? This is where we come into play. After defining your course aim we help you improve your skills and abilities in order to increase your number of surfed waves and to expand your repertoire of moves on the wave.
Start your next surfing adventure here
Ready to catch some waves? Enquire about our surf camp today and let us help you plan the surf adventure of a lifetime. Don't miss out on the opportunity to improve your skills and make memories that will last a lifetime.