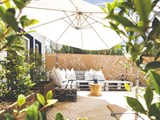 THE HOMEBASE
The "Camp" is our main house and the social centre of the Mellowmove Surfbase Portugal. It's located at the entrance of the quietly situated small town São Lourenço, only 100 meters away from the Atlantic Ocean!
At our house you will find every amenity needed to make your surf trip unique and, above all, provides you with enough space for personal relaxation and free development. After an extensive day of surf you can relax on our roof-top terrace while watching the last rays of sunlight dance on the ocean with an ice-cold beer in your hand, and wait to be called downstairs for our delicious surf dinner.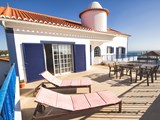 FEEL LIKE HOME…
If not outside cruising on one of our skate-longboards, you can kill some time playing darts with newly found friends or train your balance with the Indo Board Balance-Trainer.
In our spacious indoors you find a cosy lounge with everything an ample living room needs to provide you with. If you're more on the chilled side of life you're welcome to observe camp life from our comfortable hammock. Frequent poker tournaments, weekly BBQ's on the terrace, Yoga lessons, weekend trips to Lisbon or other nearby highlights as well as conjoint strolls along the coast complete the comprehensive offerings of our homebase.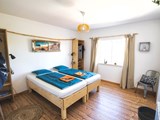 ROOMS AT THE CAMP
Our mellow 2 and 5-bed rooms, each equipped with a private bathroom, are a comfy retreat to relax for your upcoming day of surf.
Tired surfers need restorative rest. That's why we constantly make sure you get the comfort you need and you are able to rejuvenate well in your own bed after a long surf session. Since we set a high value on individuality and creativity, none of the rooms look alike and each room has its own interior concept.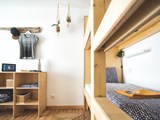 ROOM FACTS
2-BED OR DOUBLE ROOMS
5-BED DORMS (2 BUNKs & 1 SINGLE BED)
ALL ROOMS WITH PRIVATE BATHROOM (INCL. WC)
FRESH TOWELS TWICE A WEEK
CLEANING SERVICE
SURFCAMP FACTS
100 METERS FROM THE CLIFFS / 4 MINUTES FROM THE BEACH
TERRACE WITH SEA VIEW & COSY BACKYARD PATIO
XL-LOUNGE WITH TV/DVD
GAMES CORNER WITH TABLE SOCCER, DARTS & PING PONG
SPORTS EQUIPMENT (SKATEBOARDS, BALANCE TRAINER, YOGA MATS…)
ON-SITE COCKTAIL AND COFFEE BAR & CAMP SHOP
Start your next surfing adventure here
Ready to catch some waves? Enquire about our surf camp today and let us help you plan the surf adventure of a lifetime. Don't miss out on the opportunity to improve your skills and make memories that will last a lifetime.