THE SURF, YOGA, & FITNESS RESORT
Are you looking for incredible waves and unique surfing experiences? Do you want to go surfing in Bali with like-minded people? Our Bali surf camp Canggu is the right place for you!
Discover the island's best surf spots with our surf camps in Bali. We have lessons for all experience levels, guides for surf pros, as well as many additional offers with athletic activities and exciting trips. Make your stay on the island of the gods a unique experience with our surf camp in Canggu!
WHAT'S WAITING FOR YOU AT

OUR

 SURF CAMP IN CANGGU
Our Bali surf camp Canggu is in the heart of an up-and-coming district and close to the beach. You'll find several high-class semi-beach breaks right outside the door – ideal for both beginners and advanced surfers.
Reach the world-famous beach breaks and reef breaks of Pererenan and Echo Beach for intermediate and pro surfers after a short walk. You'll find Bali flair throughout the design of our surf camp in Canggu. All the rooms at the surf camp in Canggu, Bali are situated either at the natural stone pool in the tropical garden or at the massive beach pool with diving platform and bar.
Furthermore, you'll find a 15-m-high natural climbing wall, a fully equipped 400 m² gym with yoga courses, plus a pool with counter-current system here. If you need to work while on vacation, our co-working space at our Surf yoga & fitness resort makes it easy, with lots of space and fast internet.
ISLAND- 
LIFESTYLE
The island lifestyle design of the surf camp with the traditional grass roofs, 3 pools with a spacious pool deck, chill / sun lounges, the cozy restaurant areas with healthy juice bar and the sun roof invite you to relax and feast.
SURROUNDINGS 
Away from the hectic traffic and tourist centres, you can completely fall into the eat-sleep-surf-repeat rhythm in the Canggu region with its many rice fields, only a stone's throw away from the water. Enjoy the spectacular sunset with a cool after-surf beer directly from our chilled surf camp Canggu, discover the many shops and cafés in the area or enjoy the culinary variety and bars in the area.
Surf guiding is included in your package price for our Bali surf resort Canggu.
We organize surf trips for all skill levels to various spots across Bali every day, seven days a week. That means up to 16 trips for every surf level! We visit exciting surf spots in small groups, chosen according to the current, wind, and swell conditions. Choose from six different experience levels tailored to your skills. We recommend the five-day Learn-to-Surf package to all beginners. Lay the foundation for a lifetime of surfing in our in-house surf school.
THE SURF GUIDES
Learning to surf in Bali at surf camp Seminyak is easy with our highly trained surf guides. In the water with you, they always have tips and are ready to show you exciting surf tricks. The guides are familiar with every aspect of the respective spots, and which dangers to watch out for. Our guided surf tours are always in tune with the regional and local conditions. If the swell is right, we might even show you a hidden spot or two!
DAILY ROUTINE
Sign up in the digital surf planner and select the sessions that suit you one day in advance. Our Surf team are happy to help you with everything you need for a truly awesome surfing vacation in Bali.
THEORY LESSONS & VIDEO ANALYSIS
We film and analyse several surf sessions. There are also six theory lessons a week. You can participate if you wish – these lessons are already included in your package rate.
Board transportation by plane can be difficult and arduous. No need to worry, you can rent shortboards (5'8" to 7'0"), funshapes, mini-malibus (7'0" to 7'8"), and a selection of Beginner long boards from us. You'll find the right board for all weather conditions and skill levels at our camp. Lycra and leashes are already included in the rental fee. You have to pay for repairs or lost equipment yourself.
Trust is great, insurance is better. Surfboard insurance covers repair costs over a time of one to three weeks, from small dent to severe break. Experienced pros put your board back together. Please note that the user has to cover repair costs for lost parts and boards, even when lost in water.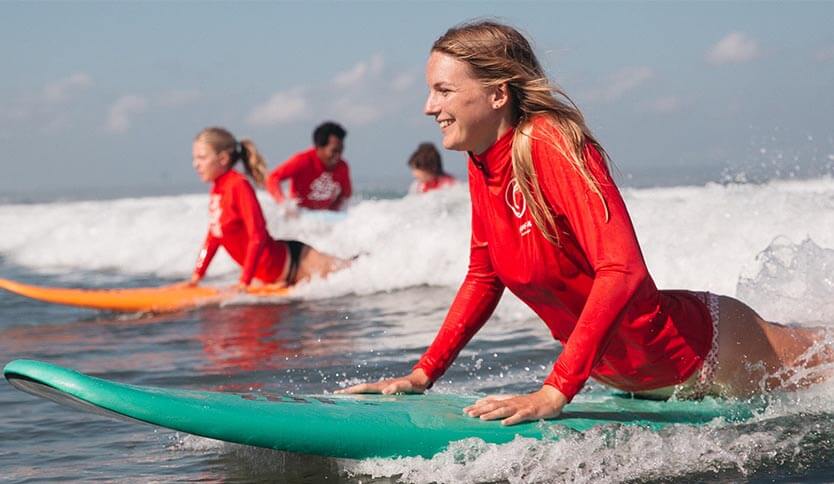 Find many semi-beach breaks with the perfect first green waves for beginners right outside our surf camp Canggu. There's a special Learn-to-Surf package for absolute beginners.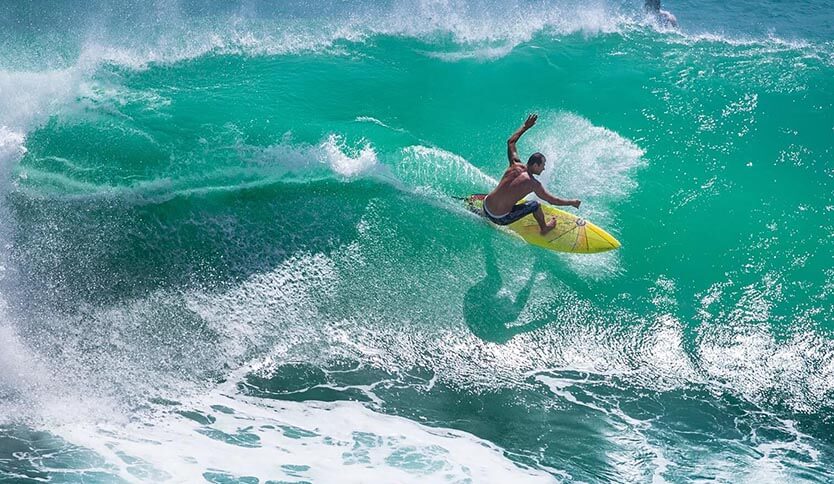 Soft reef breaks and semi-beach breaks inspire intermediate surfers. Challenge yourself on perfect waves nearby and hopefully become an experienced surfer by the end of your stay. The more remote, famous spots in Bali will certainly challenge you as well!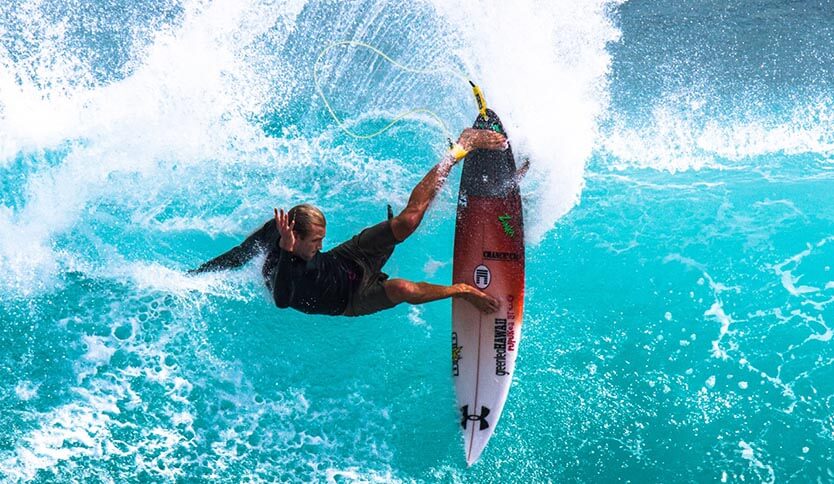 Experienced surfers certainly get their money's worth when surfing in Bali. Together we head for the best waves around the surf camp in Canggu, including legendary Airport breaks, the classic Bali waves of Balangan and Dreamland or other world-famous spots, such as Keramas, Uluwatu or Padang-Padang.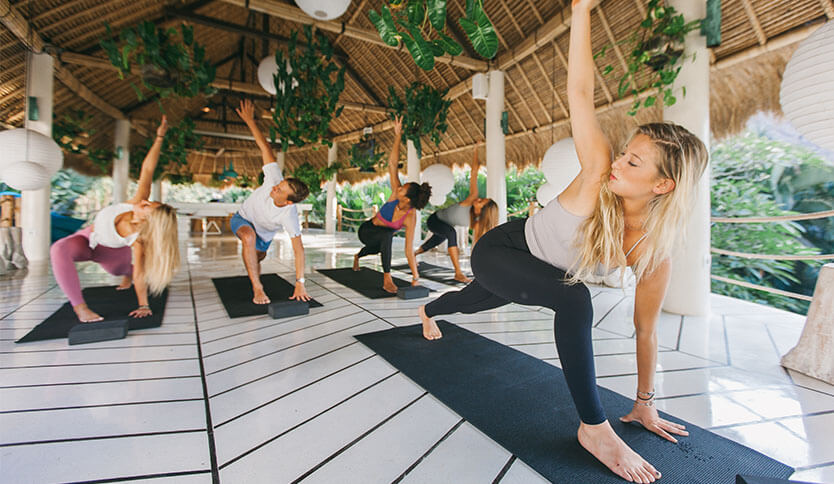 The carefully sequenced yoga classes focus on a flow of exercises that mainly focus on toning and strengthening your body. We recommend aerial yoga classes to further improve your skills – traditional yoga exercises combined with strengthening elements from aerial acrobatics and Pilates.
It goes without saying that you can also book private lessons to individually improve your surfing skills.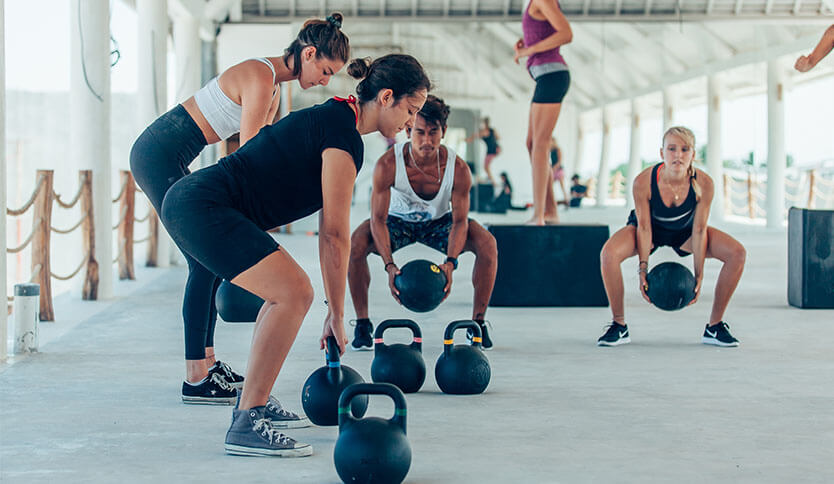 Various fitness programs guide you through your stay at our surf camp Canggu. Surf - Fit, with its daily schedule and balanced variety of exercises, is directed at improving your surf skills, your strength, and your body control.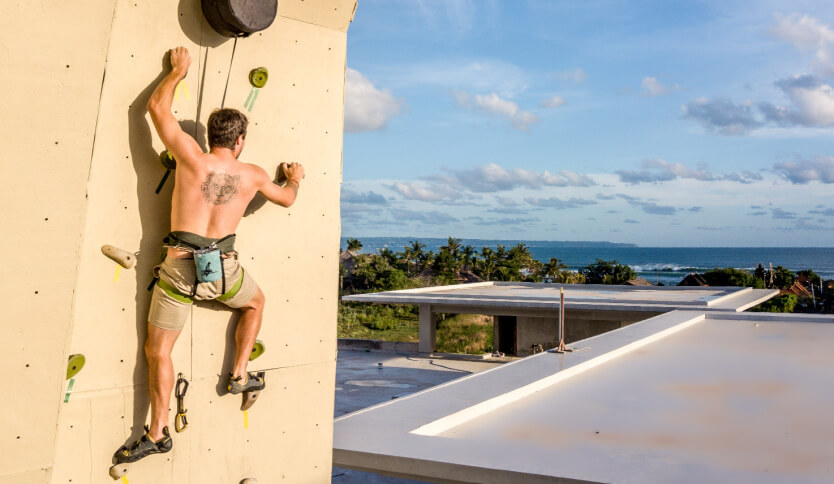 Our 400 m² gym and a wealth of classes work on your strength and your confidence. If you can't be kept on the ground, we recommend the climbing program on our 15-m-high climbing wall with True blue auto-safety system. Climbing ideally supports other sports and helps improve your skills.
Daily yoga sessions are already included in the price for your surf vacation at the surf camp Canggu.
Surf break? Relaxation? Just taking a breath? Yoga sessions take place directly in the camp six days a week, Monday to Saturday. Work on your focus and balance, strength, and flexibility. Those skills won't just do you wonders in your daily life, they'll also help on the surfboard.
Enjoy 60-minute sessions for beginners and experienced yogis at the camp. You can also choose from different yoga styles, such as hatha, yin yoga, and ashtanga yoga. How about a private yoga lesson? Our yoga instructor will guide you through an hour-long private session.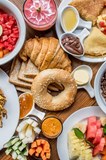 FOOD +
DRINK
Our camp restaurant is open every day from 7 am to 11 pm. Our internationally experienced chef prepares local and international dishes for you, exclusively from fresh ingredients, every day. We cook for all tastes and naturally have vegan and vegetarian options too.
BREAKFAST INCLUDED
Our delicious three courses breakfast options are available from 7 am to 12 noon in the restaurant. Free tea and coffee are available every day until 6 pm. Kick off your day with fresh juices and fruit salads along with pancakes as starters. Other options include muesli, and bagels and if you have a sweet tooth add some Nutella! To start your day with a healthy and refreshing option instead, choose one of our delicious frozen bowls.
For a savoury option, have a protein powerhouse breakfast of eggs done how you like. The best way to start your day pre or post-surf session. This is all included in your booking.
INDONESIAN FOOD
The cost of living is fairly low in Bali. Get healthy and filling meals (e.g. fish with sides) for as little as 3 €. The evening beer on the beach is usually the most expensive item. Even the most remote beaches usually offer plenty of Mie Goreg, Nasi Goreng, or fruit salad. Furthermore, you get to enjoy a wide variety of Western and Indonesian dishes at our restaurant.
INTERNATIONAL FOOD
The numerous great restaurants in Canggu have adapted to western tastes, and offer excellent cuisine. Beyond international fast-food chains, you'll find Italian, Greek, Japanese, Brazilian, Persian, and German places here.
UPGRADE TO HALF-BOARD
The half-board expands on your standard breakfast with a daily two-course menu at our restaurant in the hotel in Canggu from 5.30 pm.
Our BOTTLE & DRINKING WATER
Bali faces an increasing plastic waste problem. We try to keep Bali as free of plastic as possible with a drink bottle and unlimited water for only 20 €. You can always refill your bottle at our water fountains throughout the surf camp in Canggu.
Start your next surfing adventure here
Ready to catch some waves? Enquire about our surf camp today and let us help you plan the surf adventure of a lifetime. Don't miss out on the opportunity to improve your skills and make memories that will last a lifetime.