Secret Wave Surf Camp
learn to surf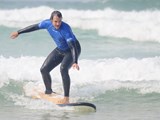 Learning to surf is more than grasping sporting technique, it's developing a great passion!
We would like to bring you closer to the joy and fascination of surfing, because learning to surf is a lot of fun and puts you in a really good mood. It also ensures that you get extremely fit and that your sense of balance is challenged.
Surf courses especially for adults
At Secret Wave's surf camp and surf courses, adults keep to themselves! The average age is around 30 years and more. This guarantees a relaxed atmosphere without pressure to perform and very personal surfing lessons in small groups that focus on individuality and quality instead of mass processing.
Learn to surf in France
You don't have to travel the world to learn to surf. France offers first-class beaches where even beginners will find ideal conditions for learning to surf. The wide sandy beaches are particularly suitable for beginners to learn how to surf. Learning to surf means having fun, gaining self-confidence and enjoying unique wave rides in beautiful nature.
Am I too old to learn to surf?
Age is the most common excuse why people hesitate to enrich their lives with a new sport. With Secret Wave there is no longer any reason for older people not to learn to surf! Learning to surf works at any age. Water is a medium in which the human body feels very safe. The ups and downs of the waves calm the mind, the sport of surfing is learned in a playful way and if you fall you don't have to be afraid of a hard impact (like with skating or snowboarding). You may struggle a bit with currents and the pull of the waves at first, but as you get to know the sea better, these factors become predictable. Our theory lessons are dedicated to the topics of "oceanography" and "safety" and help
Too old to learn to surf? We think that's an excuse! :)
Surfkurs-Info
Surf Course Content
We are now very well known in Europe for particularly detailed and very individual surfing lessons in theory and practice.

In the THEORY part, the oceanography lesson, you will learn everything you need to know about dangers, currents, tides, wind and wave formation, wave types, priority rules, surf forecasts and environmental problems. Each THEORY unit lasts about 60 minutes.
Finally, the PRACTICE part is dedicated to paddling, take-off and surfing broken and unbroken waves.

You have the choice between the following surf courses:
1-day trial surf course: If you are still unsure whether you want to learn to surf.
3-day surf course: Learning basic knowledge with basic theory knowledge (alternatively: refresher of previous knowledge).
5-day surf course: Learning in-depth knowledge plus advanced techniques with more theory knowledge and photo/video analysis.
Surf course duration
Expect 3.5 to 4 hours of surf lessons per day. The theory lessons take place in the surf camp lounge (approx. 1 hour). The practical lessons take place on the beach (approx. 2.5 hours). The rest of the day is at your leisure. Surf course start is usually Sunday. Friday is buffer day or freesurf day. We are quite flexible and can take a day off if you wish. The way to the beach is 10 minutes on foot, 2 minutes by car.
Surf-Material
The surfing material (surfboard, wetsuit, leash, wax) is included in the surfing course and can also be used before/after the surfing course for independent surfing. When booking the 5-day surf course, the material is included for the entire week of your stay, when booking the 3-day surf course on the three surf course days.
Photo package included
1-2 x per week we combine the surf lessons with a surf photo or video session. We will make the resulting images available for you to download free of charge.
Intermediate-Surfkurs
We also offer surf courses for intermediate and advanced surfers (incl. video coaching).
Maybe you just want to get more green waves or work on special maneuvers like cutback, top turn or foamclimb. This is about improving your individual surfing technique.
Secret Wave Surf Camp
Secret Wave Surfcamp is the only surf camp EXCLUSIVELY for adults 30+:
ADULTS ONLY
SECRET WAVE is a hidden insider tip:A cozy bed & breakfast + surfcamp with very personal surf courses on the french Atlantic coast, north of Biarritz.
In 2013 we started the project "Luxury surf camp for adults age 30+". The result is a boutique style tropical oasis in the surfing mecca Seignosse / Hossegor. We offer surf courses that are specially tailored to adults and older people.
Each of the 5 luxurious double rooms has a modern bathroom, king-size bed and terrace.You can walk to the beach (10 min.), to the lake (5 min.) or the center of Hossegor (30 mins.).
Surfcamp Info
SECRET WAVE Surf Lodge is hidden in a tropical garden and has five luxuriously furnished double rooms and a designer loft. The surfcamp is located on the border between Hossegor and Seignosse, 500m from the beach and 250m from the lake.
The small size and familiar atmosphere of the surfcamp guarantees a quiet & relaxed surfing holiday, away from the hustle and bustle of young surf camps. The average age of our guests is over 30 years, which is why we are also called the "30+ surf surf camp".
The surf concept
SECRET WAVE is a luxurious surf camp with german-speaking surf-classes, specially tailored for older adults. Our surf courses include extensive theory lesson and video analysis.
Secret Wave offers feel-good atmosphere, exquisite style and privacy for relaxed holidays. We have deliberately decided against shared rooms. The double rooms each have their own bathroom, kingsize bed and covered terrace with a cozy seating area. A rich breakfast buffet is included in the room rate.
Just a short walk away you find world class waves, endless beaches, great shopping, restaurants and surf competitions of international standing.
Accomodation
Of course, you can also spend the night at SECRET WAVE surfcamp without taking surf classes.
We warmly welcome both non-surfers and surfers who do not wish to book surf courses!

We are open from APRIL to NOVEMBER.
Here are the prices for your holiday at Secret Wave Surfcamp.Accommodation price is per room / week from saturday to saturday,including breakfast.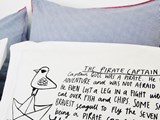 Single room
€1.260
Kingsize bed
incl. breakfast
Room price for
7 nights and one person
Booking from
Saturday to Saturday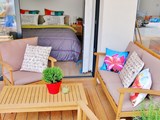 Double room
€1.400
Twinroom or Kingsize bed
incl. breakfast
Room price for
7 nights and two persons
Booking from
Saturday to Saturday
Weitere Informationen zum Doppelzimmer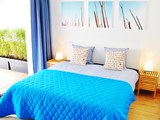 Deluxe room
€1.540
Twinroom or Kingsize bed
incl. breakfast
Room price for
7 nights and two persons
Booking from
Saturday to Saturday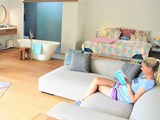 Lux-Loft
€1.995
Kingsize bed
incl. breakfast
Room price for
7 nights and two persons
Booking from
Saturday to Saturday
Start your next surfing adventure here
Ready to catch some waves? Enquire about our surf camp today and let us help you plan the surf adventure of a lifetime. Don't miss out on the opportunity to improve your skills and make memories that will last a lifetime.